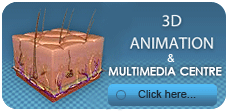 India is no way inferior to any other country in the world mainly in terms of medical education and medical services. In addition, Indian doctors have proved their mettle across the world in their specialties after completion of their basic medical courses in INDIA itself.

Over the recent past, many patients across the globe turned towards INDIA as the most exciting option for medical tourism. The prime reason for choosing INDIA as one of the most sought after destination for medical tourism is lesser cost of the therapy.

Even the medicines for a 6 months course of hair therapy costs about $ 1400. But here in INDIA it costs only $100. In the same way a quality Hair transplantation surgery of 3000 F.U.s costs about $12000 - $15000 in US but the same quality Hair transplantation procedure can be performed here at $4000 - $6000 including travel expenses. So, approximately $6000 - $9000 can be saved, which is a considerable amount.

Dr. MADHU had his basic medical studies in INDIA itself and learnt all the advanced techniques from the stalwarts in the field across the world. He was even certified as a "Diplomate" by American Board of Hair Restoration Surgery (ABHRS), which is the highest authority in the field of Hair restoration. So, his qualification is no way inferior to any best hair transplant surgeon in the world and he is delivering satisfactory results quite consistently and hence identified as a great surgeon in this part of the world by reputed forum "Hairtransplantnetwork.com".

Because of the availability and wide spread usage of internet, the world has become smaller and more approachable. We can get plethora of information on the internet about hair transplantation, its advanced techniques and clinics offering it across the world. If dug deeper, one can perceive the quality of a hair transplant surgery by researching through various blogs and forums available. As Dr. Madhu earned his reputation in this part of the world, it's even easy to trace him through web.

You can even identify the places of tourist interest in Hyderabad and other hotel information with just a click.

An important fact of a Hair Transplantation surgery is, it's just a day care procedure which doesn't need repeated follow-ups unlike other health care segments. We provide convenient appointments for overseas patients even at short notice. As a tourist one can come here to just spend a weekend and on the second day evening itself one can return back or visit this incredible INDIA and experience the beauty of unity in diversity which may not be seen / perceived in many parts of the western world.

Coming to the cost of the procedure, the lower price is mainly due to the benefit of foreign exchange US $ vs INR and also due to the lower cost of infrastructure and medical insurance. Never suspect about the quality because, we maintain international standards and we are ISO 9001:2008 certified too.

Finally, INDIA, also known as SUB-CONTINENT, offers endless scope of adventure tourism which is largely because of its diverse topography and climate.

So, if you are considering India as your destination for Hair transplantation, we certainly hope that you will consider visiting Dr. Madhu's Advanced Hair Transplant Centre @ Hyderabad.